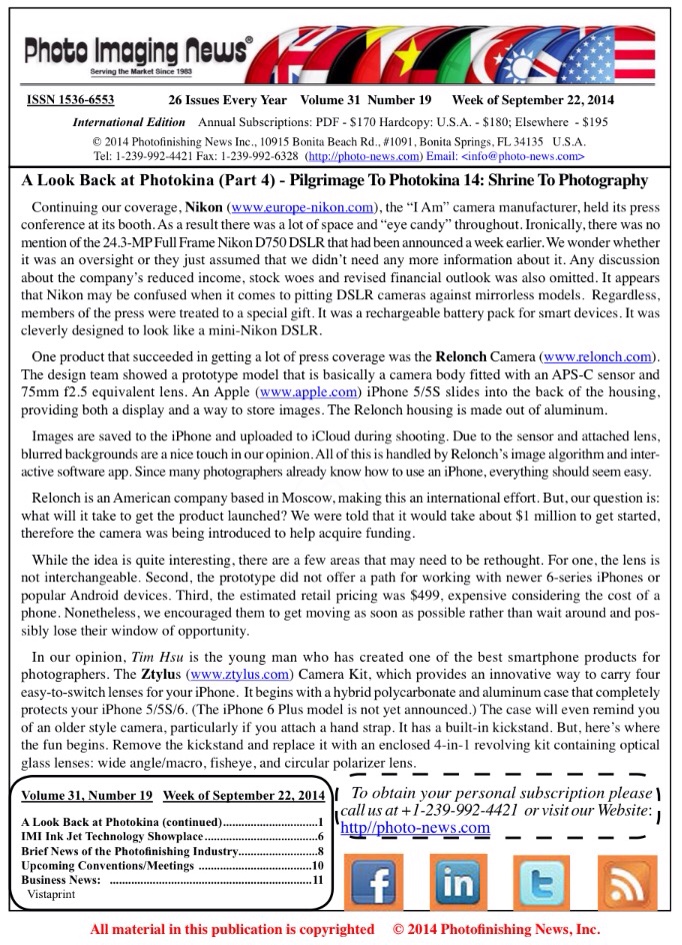 Greetings:
Our recent intention was to catch up with the back issues. Unfortunately, two personal events set this back. First, I married Kathy Stehling and the wedding preparations, etc. consumed considerable time. Then I experienced a medical problem which put me out of work for about a week.
Consequently, this issue took a long time to complete.
We continue our coverage of Photokina, and begin our coverage of the IMI Ink Jet Technology Showcase.
Let me take this opportunity to wish all our friends a wonderful holiday and a joyous New Year.
Best regards,
Don
Don Franz
Volume 31 Number 19
A Look Back at Photokina (continued – Part 4)
IMI Ink Jet Technology Showcase
Brief News of the Photofinishing Industry
• A Los Angeles superior Court judge recently entered a multi-million judgment against China Aerospace Science and Technology Corp
• Impossible Project CEO recently commented on the resurgence of Polaroids
• Boomf transforms your Facebook/Instagram photos into marshmellows
• PhotoTime is an iPhone app that uses image and facial recognition to automatically generate keyword tags
• British Museum will allow visitors to download and 3D print replicas of its antiques and artifacts
• Holoma (U4D-iT.com) offers "4D photo technology" that enables consumers to create interactive photo cards and gifts that play a related video
• A recent post in the Kodak Silver Recovery Program Group on LinkedIn
• Fujifilm Holdings Corp. has drawn up the medium-term management plan "VISION 2016"
BUSINESS NEWS
Vistaprint