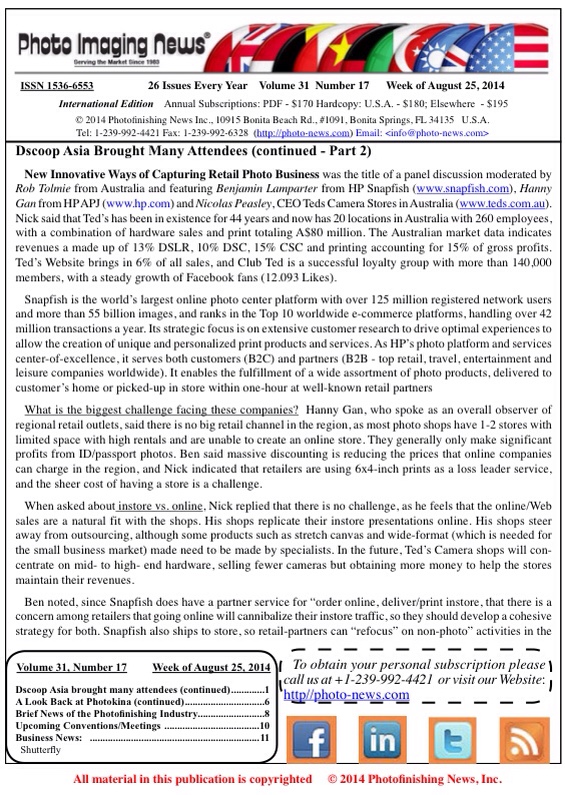 Greetings:
In this issue, we continue our coverage of Photokina, although it seems odd to be reviewing a late-September event in a late-August issue. Still, we want to keep our readers informed about recent happenings in the industry. We also continue our coverage of Dscoop Asia-Pacific.
Best regards,
Don Franz
Volume 31 Number 17 Week of August 25, 2014
Dscoop Asia Brought Many Attendees (continued – Part 2)
A Look Back at Photokina (continued – Part 2)
Brief News of the Photofinishing Industry
• Circle Graphics has acquired Boston-based Mammoth Media
• Epson is increasing the production capacity of its PrecisionCore inkjet printheads
• Caldera has opened a 4,300 ft.2 (400 sqm) facility in Minneapolis, MN
• ARB reports that the Australian Cloud services market is expected to soar from A$1.23 billion in 2013 to A$4.55 billion by 2018
• "drupa Global Insights" report on "The Impact of the Internet on Print – The digital flood"
• Fujifilm UK will close its E6 processing facility on 1 November 2014.
• Fujifilm has developed Backlit Display Material for Inkjet Printers
Business News
Shutterfly